---
What are OPDrops®?
For eye surgery patients, medicated eye drops are a critical part of your treatment. Before surgery, these drops can help prepare your eye and prevent any infections. After surgery, drops can help your eyes heal. Taking these drops is very important—your doctor may need to postpone or cancel your surgery if the drops are not taken properly.
However, many patients need to take multiple drops both before and after surgery, sometimes on different schedules. These complicated drop regimens can be challenging to follow.
OPDrops simplify your surgical care by combining multiple medications into a single bottle of eye drops. Customized for you and your procedure, OPDrops simplify your drop regimen, making it easier to stay on track with your medications. Traditional drop regimens can include up to 200 drops per course—with OPDrops, you only need to take 45 to 60.
To help make the process even easier for you, we'll ship your OPDrops directly to your home, and our pharmacists are available 24/7 to answer any questions you may have during treatment.
Get started with OPDrops
Talk to your doctor if you think OPDrops could be right for you.
To fill a prescription:
Your doctor can send us your prescription, or you can fax it to us
Once we receive your prescription, a knowledgeable member of our team will call you to discuss the OPDrops program and answer all of your questions
We will coordinate delivery to your home—no pharmacy pickups required
Use OPDrops.
Safety and storage
Remember to follow the instructions that came with your prescription. If you have any questions, please call us at 833.716.0861.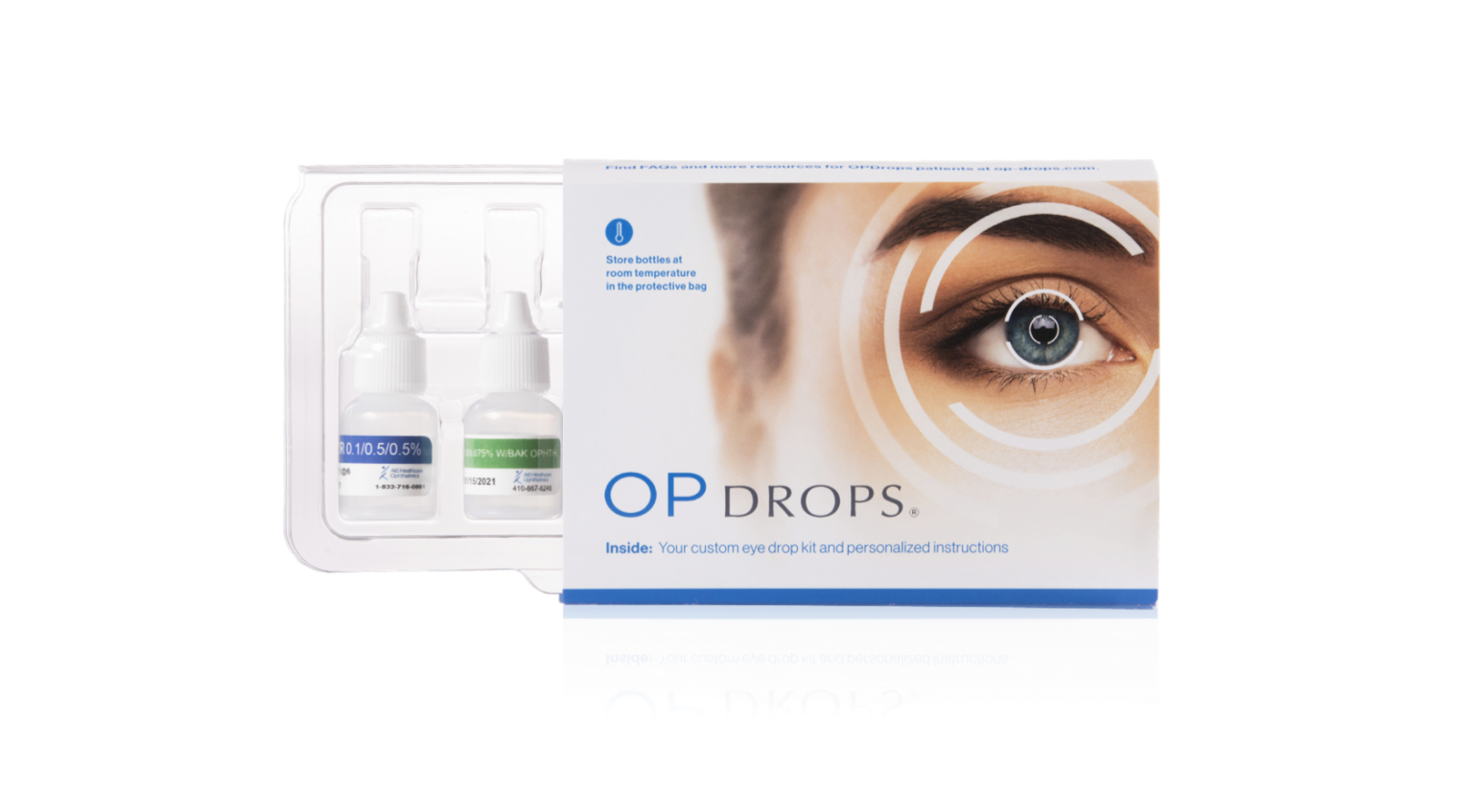 When you get your prescription, make sure the box has not been opened or damaged. If you think there is something wrong with your prescription, call us right away.
OPDrops are best stored at room temperature, before and after the bottle has been opened. Keep them in a secure place where you can get to them easily.
Follow our instruction guide to help you administer the drops. You can also watch this video from the American Academy of Ophthalmology. If you're having trouble administering the drops yourself, we suggest having someone help you.
You may notice a slight stinging sensation after using OPDrops. It should go away quickly. If it does not, call your doctor.
Get answers to frequently asked questions
Patient support and resources
At AIS Healthcare Ophthalmics, we're committed to doing more for our patients. Throughout your treatment, you can call our highly trained pharmacists and technicians with any questions you may have about OPDrops: 833.716.0861. Remember, our pharmacy team is available 24/7.
You can also visit the AIS Healthcare Ophthalmics patient support page, where you'll find billing and insurance information, links to advocacy groups and more.